Welcome to Our Mighty Little School!
PFC James D. Price Elementary School is a K–5 public school located at the Yuma Proving Grounds (YPG), a military testing installation about 25 miles outside the city of Yuma, AZ. Price is not a Department of Defense (DOD) school. We are a public school through Yuma School District One. We work collaboratively with the command and community at YPG to provide a robust academic and social-emotional education for children that live at YPG, those that have parents commuting to work at YPG, and children that live in close proximity to the base.
We are a unique and mighty little school with under 100 students! This allows us to boast small class sizes of only 10 to 15 students on average. We offer a rigorous personalized learning environment balanced with high academic and social-emotional expectations.
Learn about us and our mission to collaborate with you in educating your child. We have included a page to answer frequently asked questions that you may find useful. If your questions aren't answered there, feel free to contact us. Browse through our helpful links. Check out the calendar, and come back often to keep up with the news and events.
A Message from Our Principal
Price Families,
I am thrilled to serve as your principal again for the 2021–2022 school year! We are most definitely moving forward with full in-person instruction this year! We have bolstered our teachers, staff, curriculum, and practices to ensure that all of our students move beyond the impacts of quarantine with academic and social success.
We have hired extra staff this school year to assist with daily interventions in reading, writing, and math. We have also adopted the Character Strong curriculum to improve social emotional competencies and character development. We also offer iTeam Kids, a before-school program that develops leadership and speaking skills where students experience hands-on software and hardware training made possible by technology resources here at Price.
We are excited to announce that we will be reinstating a student council and strongly encourage our families to develop a parent teacher organization (PTO) this school year.
In addition to serving as principal here at Price Elementary, my main administrative placement is at Desert Mesa Elementary as the assistant principal. Even though I spend most days at Desert Mesa, I am committed to being at Price every Tuesday throughout the school year. In my absence, Mrs. Estrada serves as our lead teacher and your point of contact. If you would like to speak to me personally, you may contact me via email or call me at (928) 502-8602 (Desert Mesa) and (928) 502-7732 (Price).
I look forward to working together to provide a robust and exciting learning environment for all of our students! Moving forward!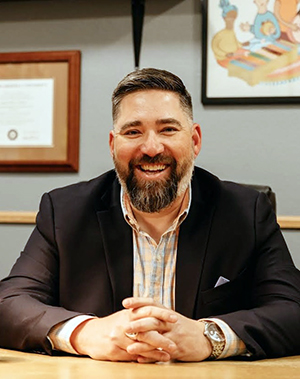 Respectfully,
Jarrod Norris
Jarrod Norris, Principal